Sports Awards Evening 2016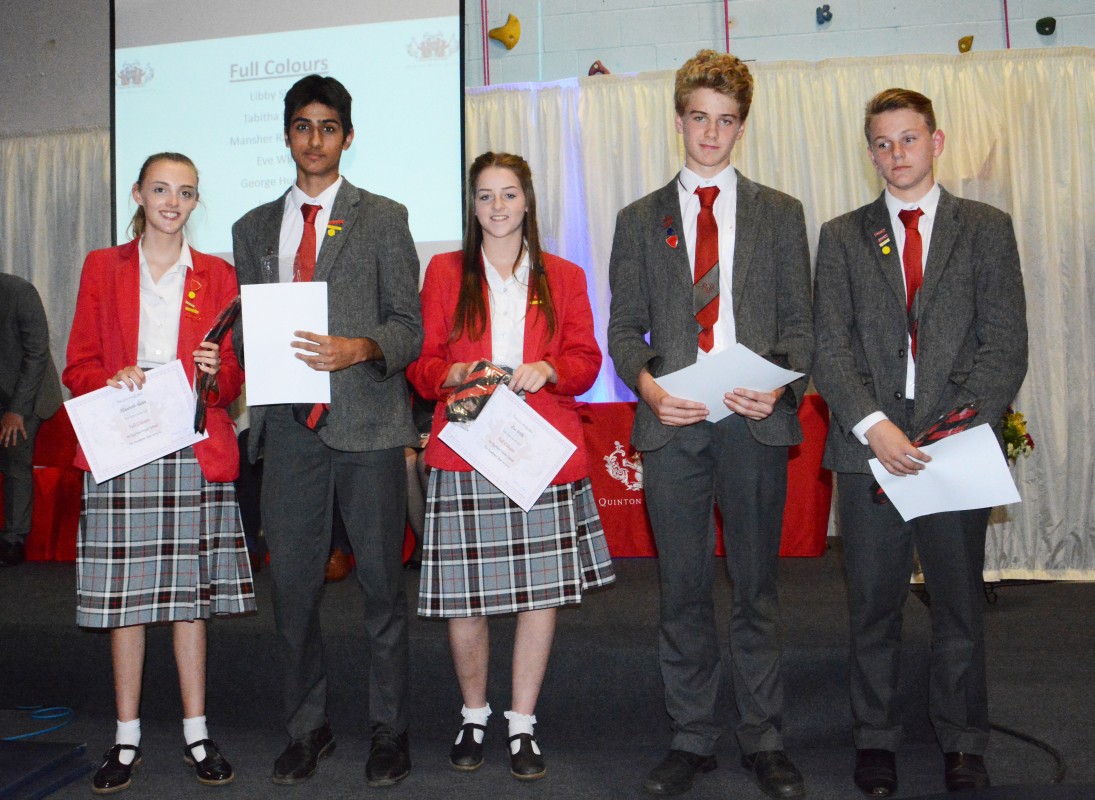 The 2016 Sports Awards was once again a memorable evening. Our guest speaker, Mr Phillip Dowsen, (rugby legend) was amazing delivering a very important speech that really captured the values and ethos of sport at QHS and inspired both pupils and parents.
This year was our biggest awards evening. We just have so much to celebrate from this academic year. It was a privilege to give out the awards this year to so many outstanding young people.
It was a really sociable and relaxed evening that focused sharply on the achievements of our sports stars.
A special mention goes to Sam Dyer who was awarded the Geraint Jones award for sporting excellence for his swimming. See below a short extract about Sam for you to enjoy. He is truly special.
Samuel Dyer (Sam) is a member of Performance 1 squad at Northampton Swimming Club (NSC). NSC is Northamptonshire's Performance Club as endorsed by the Amateur Swimming Association (ASA) and British Swimming (BS).
Sam has developed and moved from Age Group Swimming into Junior and Youth Swimming during the last 24 months and his performances have moved from a County and Regional Level to a National and International Level.  These moves in performance levels have come from hard work, unstinting dedication and commitment from Sam to his chosen sport.
At the end of the 2013 /2014 season Sam competed at the National Championships finishing in the Top 10 in Great Britain in the 1500m freestyle and Open Water 1500m. Following those performances Sam was selected onto England Programmes level 1 camps East Midlands Region.
The 2014/2015 saw Sam's first International experience at a meet held in Beauvais, just north of Paris, in October 2014. Sam had also joined Performance 1 squad where he had to deal with increased demands in training in terms of the number of sessions and metres he swims each week.  He currently trains between 42000m and 60000m per week over 8 sessions which involves a minimum of two early mornings from 05:00-07:00.
In the last 12 months Sam has competed and will be competing in the following:
July 2015 – Great Britain – National Championships – 1500m freestyle  – Finished 8th
August 2015 – Great Britain – National Open water Championships – 3000m – Finished 5th
August 2015 – ASA England – National Championships – 400m freestyle – Finished 3rd Bronze medal
September 2015 – Selected England Programmes  Level 1
December 2015 – Selected England Programmes Level 2 – Open Water / Distance Free Group
April 2015 – Arena League National Final – Cardiff
May 2015 – Selected for England Programmes Level 3 – Majorca camp and Competition at the Best Open Water International Meet. Sam raced in 4.5K , 1.5k and 7k open water sea swims as well as  a weeks training on a camp with Olympic and World level athletes Jack Burnell, Caleb Hughes and Tim Shuttleworth.
June 2015 – Great East Swim – Elite Race finishing 4th in his age group
July 2015 – Regional Open Water Championships
July 2015 – National Open Water Championships
July 2015 – Great Britain – National Championships 400m Free / 1500m Free / 4 x 100 Free Relay and 4 x 200 Free Relay
September 2015 – Serpentine Open Water Swim – Elite Race
Published on: 6th July 2016