Music is at the heart of Quinton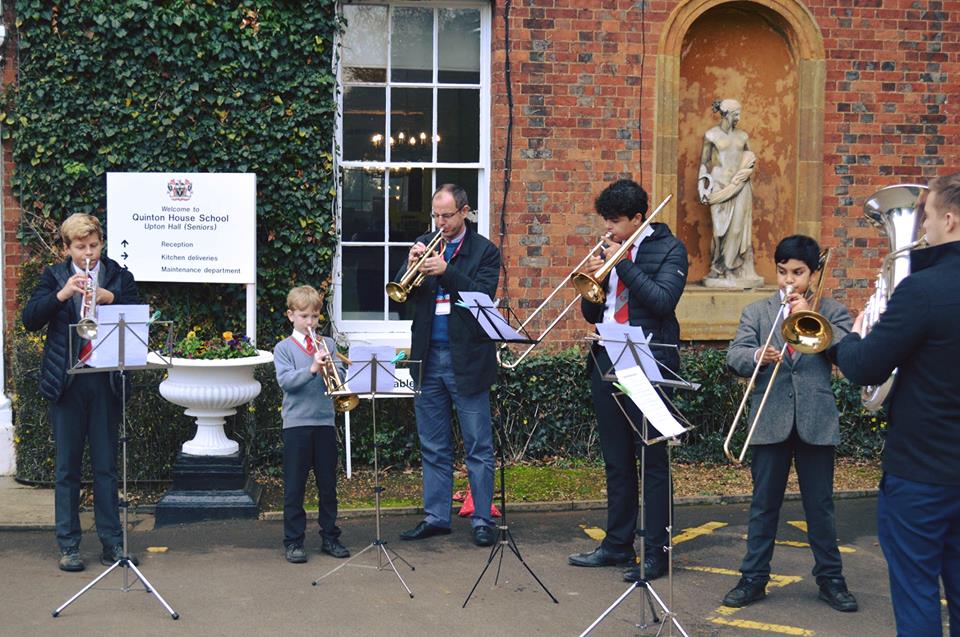 "Music is the greatest communication in the world" Lou Rawls
The quality of the music and singing has been remarkably high this week and all children and staff should be congratulated on their wonderful contributions to the Christmas atmosphere pervading the school. Christmas activities have continued to dominate the daily calendar with an array of impressive and enjoyable Nativity performances in the beautiful surroundings of St Michael's Church.
The Junior School choirs have performed this week for Hawthorns Retirement Home and within the local Upton community at the turning on of the Christmas tree lights in Upton Square. Tuesday's Senior Citizens Christmas Party was once again enjoyed by all with our pupils a great credit to the school in serving and entertaining our guests. The gifts donated by QHS parents were warmly received and the event remains a special event on the school calendar.
We hope that our Carol Service at All Saints' Church in Northampton will also become a regular feature of the school year. We look forward to a genuine whole school celebration with carols and readings starting at 6pm on Tuesday evening.
A professional camera crew from Cognita visited on Friday to film our children opening their Christmas cards from around the world. The excitement at opening cards from Hong Kong, Thailand, Singapore, Brazil and Chile was obvious and we now hope to continue the global education activities with further projects, the next being the Solar Buddy Challenge in the Spring Term.
The praise for our senior school students from several external sources serves to encourage and challenge all students to be the very best versions of ourselves that we can possibly be. Our Year 11 girls have clearly impressed the Pacesetters organisation with their character and approach as they support our students in adopting the appropriate strategies for life as a 16 year old female in today's society. Special thank you also this week to one of our parents, Mrs Soto, who presented a very impressive careers talk on Friday. The contribution of parents in supporting and educating our students is certainly much appreciated.
The voice of the students has been a feature of senior school life this week. The voices have been heard loud and clear with proposals that have resulted in the introduction of new clubs and activities next term that include girls' football, split age group basketball, key stage 3 photography and art clubs, school newspaper group, indoor five-a-side football and House competitions in both karting and laser quest.
The new Year 11 hair regulations introduced this term have been well-received by all and the progressive voice of the students is much to be commended. Whilst some proposals about uniform and homework were rejected by the management, the introduction and acceptance of many of the School Council and Food Committee proposals serves to demonstrate the desire of our pupils to have a school that provides a high quality of education producing rounded individuals that not only fulfil their own potential but are willing to serve and consider others.
"Our lives begin to end the day the day we become silent about the things that really matter" Martin Luther King
Tim Hoyle